The President of College of Syntonic Optometry
Welcome to the College of Syntonic Optometry!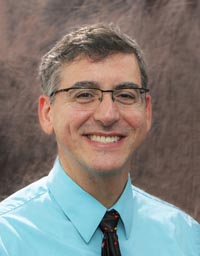 It is an exciting time to be involved in this special branch of developmental and behavioral optometry. Interest in the use of light to treat vision conditions and improve vision therapy outcomes is growing rapidly. Our introductory courses are frequently selling out.
Whether you work with children with learning-related vision problems, strabismus and amblyopes, or survivors of traumatic brain injuries, syntonic phototherapy can help you help more patients and increase your success rates. Whether you are new to this field, or an experienced provider, I believe you will find this new website useful and full of information you can use immediately.
During my term as CSO president I hope to see the following:
Research on the effectiveness of our syntonic phototherapy treatments
Continued growth in our membership numbers
Increased availability of both basic and advanced phototherapy courses
Growth in the numbers of our CSO Fellows
This is a golden age for syntonic phototherapy. This organization's ability to grow and prosper would not be possible without our dedicated board members and our administrators at our home office in Colorado.
About Dr. Fox:
Dr. Robert S. Fox is a 1985 graduate of the State University of New York College of Optometry in New York City. Following graduation, he completed a residency in Rehabilitative Optometry at Northport Veterans Administration Hospital. He is in private practice in Latham, New York. The practice is dedicated to providing vision therapy and vision rehabilitative services to patients of all ages. Dr. Fox has been extremely active in the College of Optometrists in Vision Development (COVD), where he has chaired several committees. Most recently he served as chair of the COVD International Examination and Certification Board.
He lives in Niskayuna, New York, with his wife, Randy, and has two daughters, Sharon and Joanna.